Reporters: Chow Hoi Kit, Cheng Ka Lok, Kwong Chi Ching, Mak Ka Yan, Ling Wing Yi, Sung Pui Yan
What was the first application (app) you downloaded on your phone? WhatsApp? Instagram? Or was it an app established by the Hong Kong government?
According to data provided by the Innovation and Technology Bureau, as of 2018, the HKSAR government had developed more than 100 apps at the cost of nearly 30 million HKD. However, some of these apps had a very low number of downloads. For example, the Food and Environmental Hygiene Department (FEHD) launched an app called"Internet Memorial Service", which has only 1,900 downloads. Also, many users do not understand why a government department needs to develop and maintain many overlapping apps at the same time.
"Tell me@1823 and 1823 Online"
1823 is a one-stop phone hotline developed by the government in 2001 for handling public enquiries and complaints. In 2011, this hotline went digital, with the launch of the "Tell me@1823" app. However, when you type "1823" in the search box of Google Play or Apple Store, you will find two apps with the name "1823": "Tell me@1823" and "1823 Online". "Tell me@1823" is designed to handle public enquiries, while "1823 Online" is for searching FAQs of 1823 participating departments. Many users left critical comments on Google Play and Apple Store, saying they felt very confused and did not know which app they should use. According to the official numbers, the total number of downloads (as at 30 April 2019) for the "1823 Online" app is 25,800, while "Tell me@1823"s 182,000.
Our reporter tested the usability of the two 1823 apps. Specifically, we enquired about details of the "Caring and Sharing Scheme" and the "Public Housing waiting time". We submitted our two questions on "Tell me@1823" (see the diagram below). After two working days, 1823 hotline staff replied with a phone call. They were able to give the waiting time for public housing, but they could not provide details of the "Caring and Sharing Scheme" and gave our reporter another telephone number for further enquiries only.
We also tried to find answers to our two questions by using "1823 Online", but no results were found.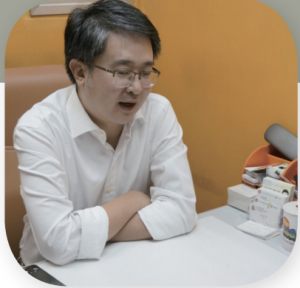 Raymond Ho, the convener of Momentum 107 and the district council of Sai Kung (Photo: Mimi Mak)
"One Department, Different Apps"
In addition to the 1823 service, it is not difficult to find other departments operating more than one app concurrently. There are four apps developed by the Fire Services Department, each of which has a single function. For example, the"Hong Kong Fire Services Mobile Application"is for up-to-date information from the Fire Services Department."Catch time, save life"is an app that teaches users how to call the fire service immediately when there is an emergency accident."Live safe, be watchful"and"Stay Calm & Collected"are two apps offering mini games and aimed at teaching the user through play.
To find out the rationale behind having two 1823 apps, the reporter emailed the Information Officer at the Innovation and Technology Bureau. After three working days, the Information Officer replied. She did not comment on the 1823 case but just asked the reporter to refer to the written reply by Mr Nicholas W. Yang, the Secretary for Innovation and Technology, to the question raised by Paul Tse, the Legislative Councilor, on May 22. Mr Yang's reply stated:"There are various reasons behind whether the number of downloads of a mobile app is high or low, for example, the target user group can be small in size (such as mobile apps for the visually impaired or overseas investors), or the public can obtain services through other channels (such as departmental websites, etc.)."
Raymond Ho: Develop KPI for Different Departments
Ho Man Kit Raymond, the convener of Momentum 107, a non-government association aimed at "prudent use of public money", criticised the poor strategy adopted by the government to develop mobile apps. He suggested that each governmental department should develop a Key Performance Index (KPI) to evaluate the effectiveness of different apps, for example number of downloads and updates, usage and functions. "I'm not saying that one-million downloads should become a benchmark–different departments and different apps' functions could have their own KPI," said Raymond.
"Ambitious Plan, Poor Strategy"
Raymond also advised the government to adopt an holistic approach to implementing its "ambitious" app development plan. He suggested that instead of the app design process being department focused, with individual departments designing their own apps, it should be user orientated. For example, different departments should work together to design a single app for the youth that provides information related to the services available to them."You can have an integrated app which contains scholarship information provided by the Education Bureau, job vacancies by the Labour Department and application details for a working visa by the Immigration Department," suggested Raymond. He also hoped that the government would invite young people to participate in the government app design process.